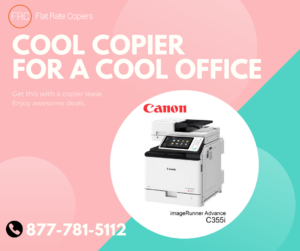 Copier Lease in Coral Gables, FL
Big businesses are getting a copier lease in Coral Gables. Even multinational corporations are choosing to lease their copiers instead of buying them. There is a logical reasoning to it. It simply boils down to smart financing. These companies know that a copier lease will benefit them in the long run. Let's talk about some of the reasons why you should lease instead of buying a new printer.
Spread your cost over time
Buying a printer upfront for your office comes with a pretty hefty price tag. With a copier lease you can spread that same cost over 24 months or so, depending on your desired lease term. For example, you are about to purchase a $10000 multifunctional printer for your office. You could say that it's all good. You finally have an efficient printer that supports your office workflows. However, a machine that big needs a lot of maintenance tasks. You now have to hire a company to do this. Consumable parts need to be resupplied and replaced. We're still not talking about toners, ink, and printer upkeep. Moreover, there will be sudden breakdowns. You have to call a copier repair company for this. Now, think of all this cost on top of the $10000 that you spent on the machine.
A copier lease spreads these costs over time. Our leasing services at Flat Rate Copiers start at $149 per month and already includes delivery and installation, toner, parts and labor, maintenance, and repair. You also have the option to avail of a more proactive service level so we can take care of you. You won't be able to have these perks just by buying a new printer.
How about interest?
Now, you might wonder about interest. Flat Rate Copiers only charges customers with interest rates as low as five per cent. Your copier lease with Flat Rate Copiers means smarter financing for your business. The value of the copy machine is not the only cost that we can spread over time. We take into consideration the costs on consumable parts, printer repair, maintenance, and so on. Projecting these costs over a period of 24 months or longer makes copier lease a valuable deal for your business. The bottom line is that copier leasing will give you the most bang for your buck. It is sensibly cheaper than buying a copier upfront. Moreover, Flat Rate Copiers have in-house financing to help you get started. We work with financing companies that will guide you through the whole process. Our copier lease service will start smoothly once the deal is done.
Sustain your business for the long term
You also have to consider that you can use the rest of that $10000 for more business investments. Now, these investments can help your business grow. You are now thinking of your business' sustainability.
Let's take a scenario for example. Your company invests on a desktop printer. Now, your monthly printing averages on 2000 prints. It is expected that your printer will malfunction. Desktop printers are not built for the amount of printing that you do per month. Next, your printer finally gave up. Consequently, your company just decides to scrap this unit and buy a new one. You think that this is just an operational hazard. Your company does this same process for at least four times a year. You are convinced that this operational hazard is something that your company has to sacrifice. However, constantly replacing your printer will hurt you in the long run. It is not an operational hazard. This is an example of unsustainable practice. How long are you going to put up with malfunctioning desktop printers?
Sustainability depends on the choices your company makes on a micro and macro level. How long your business stays on track relies on how you value this concept. A copier lease saves you from spending money purchasing a desktop printer for how many times a year. It saves you from expenses that are entirely avoidable. In the example above, there are instances that you will spend more money on repair. Then the technician will tell you that it's not possible. Now, you have to buy a new one. You still have to pay the technician's hourly rate and you still have to buy a new printer. The math is simple and obvious. A copier lease means better sustainability.
Tax incentives
Once you sign a copier lease with Flat Rate Copiers, the copier lease will be categorized as a business expense. As a result, there will be considerable tax deductions for your business. An owned copy machine is a taxable property. A copier lease gives you better tax incentives such as this.
Improve your office uptime
A copier lease saves your office from costly downtime. For instance, we perform preventative maintenance on our copy machines to make sure malfunctions are lessened in the first place. But if a printer goes awry, we can easily deploy our technicians. We are always one call away. Finally, a copier lease results in optimized office uptime. Better office uptime means better productivity. Say goodbye to late documents pending signatures, contracts that need to be forwarded, memos that need to be circulated. We make sure your office printing will be flawless. Let us take over so you can do your work.
---
Why Choose Flat Rate Copiers
Guaranteed lease approval. We say "Yes" when other companies say "No". We love working with small and medium businesses, start-ups, and other growing companies. At Flat Rate Copiers, we know the challenges of maintaining a business. Get a lease with Flat Rate Copiers and start the experience of smart and better financing.
No overage penalties. We tell you upfront the costs. At Flat Rate Copiers, we practice transparency and honesty. Once you go over your monthly limit, we don't charge you with penalties. Our lease services will only have flat rate per print cost for overage.
World-class technicians. We only work with the best in the industry. Our certified technicians have a combined 50 years of experience in the best printer and copier brands.
In-house financing. We offer convenience right at our doorstep. Take advantage of our in-house financing to start your copier lease with us.
---
Let's start working together. Sign a lease with Flat Rate Copiers now.
Flat Rate Copiers offers nationwide leasing services and provide local technical services. We have multiple locations across states. FRC is known for our outstanding service in Miami, Coral Gables, and the greater south Florida area including Miami Dade County. Moreover, we have recently expanded our service to Ft. Lauderdale and most of Broward County. We offer a wide range of affordable copier leasing options.
If you are interested, give us a call now at 877-781-5112. 
---
Create Multiple Quotes Instantly
After you name your own price simply print or save any quote.
GET YOUR QUOTE NOW