Printer Brands: Ricoh Copiers
RICOH COPIERS IM SERIES: Four Things That Set It Apart from Other Brands
HISTORY
Ricoh is a pioneer in the industry. It was founded in Tokyo, Japan. It has been in business since 1936, initially manufacturing cameras and launching its first office Ricoh copiers in 1955. Now, the Ricoh Group is a global operation with over 100,000 staff. The company is consistently named among the Global 100 Most Sustainable Corporations, the Top 100 Global Innovators and one of the World's Most Ethical Companies.
The company jumped into the spotlight when they manufactured the fastest digital color printer in 1990, at 15 pages per minute. They are more known for serving large businesses with office solutions. Some would say that Ricoh is the largest copier manufacturer in the world.
Just like Canon, Ricoh also manufactured cameras. The company started as a sensitized paper division of Rikagaku Kogyo. Then it split off and established Riken Kankoshi Co., Ltd.
Later on, Ricoh also manufactured watched and partnered with Hamilton Watch Company. In the 1980s and 1990s, Ricoh manufactured copiers for Toshiba and fax machines for AT&T. Ricoh also produced central processing units (CPUs) for early Nintendo consoles.
Ricoh printers and copiers, or multifunction printers (MFPs) as they are also called, are known for their quality, versatility, capacity, speed and graphics capabilities. The Ricoh product line is diverse. It offers everything from basic desktop printers to feature-rich multipurpose devices that scan, fax, print and copy.
---
The Four S'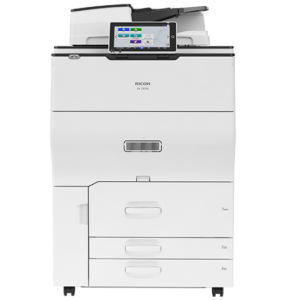 Ricoh is well known for its copiers that offer scalable, secure, sustainable and simple print solutions. The IM Series multifunction printers embody Ricoh's full range of office printing capabilities.
Let's take a look at the four core values that make Ricoh a global top player in the industry.
Scalability
It's all about scalability for Ricoh. The new IM (Intelligent – Multifunction) Series is improving office printing by combining printer hardware with software that scales for your business. Ricoh's device capabilities can grow with your business. Ricoh copiers are built on their new Always Current Technology platform that allows you to install the latest features and updates. This helps keep your device current and ready to meet your changing business needs.
It is assuring that as your office grows you are supported by the latest technology. Scaling is quite unique to Ricoh especially in its IM Series. The ability to install updates that can influence printer hardware is not just smart but practical.
Instead of purchasing a brand new printer to have the latest functions, you can just activate desired features and download applications as you need them. There's no need to call a technician or wait for a contract to end. You can experience the updates in imaging technology with this platform. You can just easily add new features to keep up with the ever-changing productivity demands.
In a sense it means that Ricoh copiers are constantly improving over time. This means that you can apply updates easily. You can easily minimize office downtime and disruption.
Security
It is industry standard for copy machines to have integrated security system. Ricoh copiers prove their commitment to security. They constantly meet the industry standard IEEE 2600 requirements for device security. The Ricoh-proprietary operating system helps reduce the risks from external threats.
This also does not hinder your business processes or productivity. The system protects your data and privacy.
You can use the Secure Print Option module with Ricoh Streamline NX v3 BASE software to help safeguard printed information. This will validate users on printers and digital multifunction printers (MFPs), so documents are released only to authorized users. Moreover, you can encrypt data and establish print rules. Lastly, you can manage security from a user interface accessible even from your smartphone or tablet.
This feature secures information by releasing print jobs only when authorized users can retrieve them at the device. You can also manage print controls and access print queues remotely. There is also an option to enable mobile printing. You can use authentication to set print rules for specific users and devices. This includes quotas, routing, color restrictions and more. Overall, this will greatly reduce your operating costs.
Lastly, the Secure Print Option manages print behaviors. You can delete jobs in the print queue automatically after a specified time period. Moreover, you can cut paper costs with default duplex printing. With authentication, you can reduce wasteful printing by giving print quotas for users and workgroups.
Sustainability
Most of the top printer brands are focusing more on sustainability. For example, the Ricoh IM C8000 is ENERGY STAR® certified and EPEAT® Gold Rated with a Typical Electricity Consumption (TEC) at 1.681 kWh/week. Program automatic shut-off times when the office is empty. You can use duplex printing to minimize paper costs. Moreover, you can set quotas and restrict specific users to black-and-white printing only for even more savings. You can also track paper usage and user behaviors with an Eco-Friendly Indicator.
Moreover, this helps you reduce your CO2 footprint while driving down costs. Ricoh's MFDs are built from sustainable material. It has one of the lowest TEC (Typical Energy Consumption) values in the industry. Also, the quick start-up function assists in reducing energy costs. There is also the human detection sensor for Sleep Mode.
Ricoh also offers recycling programs. This ensures responsible end-of-life product management.
In fact in 2014, Ricoh was named one of the Global 100 Most Sustainable Corporations for the tenth time. Its sustainability initiatives recently earned the company a prestigious ENERGY STAR® Partner of the Year Award from the U.S. Environmental Protection Agency.
Simplicity
Ricoh's smart user interface speaks for its simplicity. The new 10.1″ Smart Operation Panel makes tasks easier. It provides convenience. You can use the same gestures on your smartphone or tablet. You can access settings, preview, and configure layout options. Also, this allows for simplified document creation.
The Ricoh IM Series represents simple and easier way to work. The Smart Operation Panel features improved usability. It provides an even more responsive touch interface. You can preview and configure printing options. The panel simplifies your everyday tasks.
Lastly, you can create shortcuts. Get access to workflow-enhancing apps. Moreover, you can move between jobs with no effort. You can access multiple smart support capabilities. You can be productive anywhere. Choose Ricoh IM when you're looking for speed. A built-in motion sensor activates the SOP upon your approach, so you can select tasks instantly.
Conclusion
Ricoh is a top player for a reason. It continuously sets the pace for the imaging industry. Its scalable technology is ingenious. This sets Ricoh apart from other brands. Moreover, this proves that scaling technology is the future. And that future is near.
In a nutshell, Ricoh is a pioneer in future-proofing technology. Our workspaces will eventually transform. Change is inevitable. It is just a question of when and how. Ricoh's technology gives us a preview of what is to come. The scalable technology of Ricoh's copiers should be an industry standard. It is fair to say that Ricoh is ready for the future workspace.
Now, Ricoh is also redirecting their focus on energy conservation. Big businesses have a responsibility to the environment. Manufacturers like Ricoh are rethinking their corporate responsibility to nature. New designs are created to lessen carbon footprint. Moreover, machines are integrated with energy saving features. All of this stems from the conversation on sustainability.
Ricoh is not the only company that shifted focus on sustainable practice. Businesses realize that they have to execute sustainability goals. These goals will benefit them long-term. Moreover, sustainability means survivability for the company. You have to get rid of inefficient practices. Unsustainable work processes need to be improved.
Now, sustainability is the new trend in the imaging industry. Machines are now designed for maximized energy usage with less carbon footprint. Companies realize their contribution to global pollution. Sustainability then becomes a global effort. Ricoh's IM Series is an example. Its energy management feature greatly reduces energy costs.
In conclusion, what sets Ricoh apart from other brands are its core values. These core values are present in every machine that they create. The values of scalability, security, sustainability, and simplicity are present in all Ricoh copiers.
Lastly, we know this experience. We'd love to share it with you.
---
Get a Ricoh Copier with a Flat Rate Copiers Lease
Start a lease with us and experience Ricoh. We have a wide portfolio of copy machines. Get access to Ricoh's impressive features now. Give us a call at 877-781-5112.
Your business can experience the scalable technology of Ricoh's IM Series. This will greatly improve work productivity. Also, its Always Current Technology makes sure that office downtime is minimized. You can install updates. You can also add new features. There's no need to buy a new unit. You don't even have to upgrade. Ricoh is all about scaling. Your work is simplified. The office will have sustainability. Also, you don't have to worry about security.
Now, we are excited to share this experience with you. We are ready to submit a proposal.
If you are interested in signing a lease with Flat Rate Copiers, call us now at 877-781-5112.
---
Create Multiple Quotes Instantly
After you name your own price simply print or save any quote.
GET YOUR QUOTE NOW