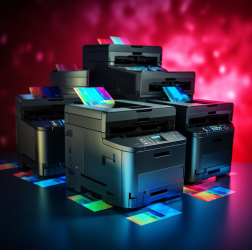 In today's fast-paced business environment, efficiency is a key factor for success. Companies are constantly seeking solutions to improve processes, save time, and boost productivity. In this blog post, we will delve into how monochrome laser printers and all-in-one laser printers can play a vital role in achieving these goals.
1. Monochrome Laser Printers: Speed and Precision 
Monochrome laser printers are renowned for their fast and precise printing capabilities. Whether your company needs to produce text-heavy documents, reports, or invoices, monochrome laser printers deliver sharp and professional results in no time.
2. All-in-One Laser Printers: Multifunctional Powerhouse
All-in-one laser printers are versatile workhorses that combine printing, scanning, copying, and sometimes faxing functions in a single device. This multifunctionality simplifies document management, reduces the need for multiple machines, and enhances your team's productivity.
3. Cost Efficiency Through Monochrome Printing
Monochrome laser printers are cost-efficient as they primarily use black toner, which is more affordable than color toner. This cost-saving feature allows your company to reduce printing expenses while maintaining high-quality outputs.
4. Compact Footprint for Space Savings
Both monochrome laser printers and all-in-one laser printers come in compact designs, making them suitable for small office spaces. Their space-saving footprint ensures you can maximize your workspace.
5. Wireless Connectivity for Enhanced Mobility
Modern laser printers offer wireless connectivity, enabling you to print and scan from various devices such as computers, smartphones, and tablets. This feature is particularly useful for remote work and collaborative projects, as it allows easy sharing and management of documents.