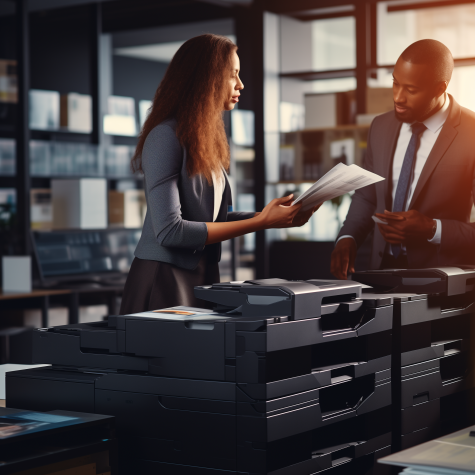 In the current business landscape, efficiency and space optimization are key. This is where small printers and copiers come in as a game-changer for many companies, especially small to medium-sized businesses or those with limited office space. Let's delve into how these compact devices can significantly enhance your business operations.
Compact Size, Big Impact
Space-Saving Design: One of the most apparent benefits of small printers and copiers is their size. These devices are perfect for offices where space is at a premium. They can easily fit on a desk or in a small corner, freeing up valuable office space for other essential functions.
Ease of Accessibility: Their compact size also means that these machines can be placed closer to workstations, improving accessibility for employees and streamlining the workflow.
Cost-Effective and Energy-Efficient
Lower Initial Investment: Smaller printers and copiers generally come with a lower price tag compared to their larger counterparts, making them a cost-effective option for businesses on a tight budget.
Energy Savings: These devices often consume less power, contributing to lower energy bills and supporting your business's sustainability goals.
Tailored for Small Business Needs
Sufficient Functionality: While smaller in size, these printers and copiers don't compromise on functionality. They offer essential features like wireless printing, color copying, and scanning, meeting the daily needs of most businesses.
Easy Maintenance: Smaller devices usually mean simpler mechanics and easier maintenance. This can translate into lower servicing costs and less downtime for repairs.
Quality and Speed
High-Quality Output: Modern small printers and copiers deliver high-quality prints and copies, ensuring that your business's documents look professional.
Adequate Speed for Small Teams: These machines are designed to cater to the print and copy volume of small teams efficiently, ensuring that your business operations don't slow down due to printing queues.
Choosing the Right Small Printer or Copier
Assess Your Needs: Consider your print and copy volume, the types of documents you handle, and any specific features you may require, such as double-sided printing or high-resolution scanning.
Read Reviews and Compare Models: Look at reviews and compare different models to find one that matches your business's needs in terms of functionality, reliability, and cost of ownership.
Consider Connectivity Options: Choose a printer or copier with various connectivity options like Wi-Fi, Bluetooth, or cloud printing for added convenience.
Conclusion
Small printers and copiers are an excellent solution for businesses looking to maximize their efficiency and productivity while minimizing costs and space usage. By carefully selecting a device that meets your specific business needs, you can enjoy the benefits of a fully functional printing and copying solution without the drawbacks of larger, more expensive equipment. In the world of office equipment, sometimes smaller can indeed be better.